Collection highlights
Toilet with TwistFlush, our new revolutionary flushing technology
Deep washbasins and side ledges for maximum comfort
Modern furniture design with plenty of storage space and anti-fingerprint coating
Smart lighting
Quaryl® baths with the innovative SilentFlow filling system
Features and striking details
Top Together – matching taps
The Subway 3.0 taps coordinate perfectly with the bathroom ceramics in the collection.
Με AdjustablePlus ρυθμιστή ροής του νερού

Με λειτουργία AirPlus για ισχυρή ροή με φειδωλή χρήση νερού

Χάρη στο AquaSmart περιορίζεται η ροή του νερού στο νιπτήρα στα 5 L/min

Με διαφορετικά ύψη βρύσης για επιτραπέζιους νιπτήρες με ComfortPlus

Εύκολος καθαρισμός και αφαίρεση αλάτων χάρη στο EasyClean

Με σταθερή ροή νερού ακόμα και σε περίπτωση διακυμάνσεων της πίεσης χάρη στο SmartPressure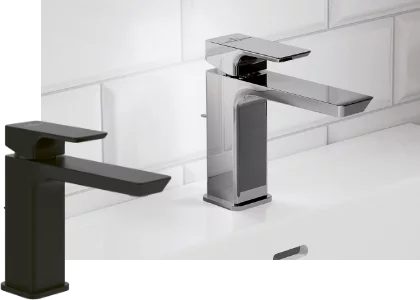 Each finish is an eye-catcher
Για μέγιστη σχεδιαστική ελευθερία στο μπάνιο, μπορείτε να επιλέξετε ένα από τέσσερα φινιρίσματα Chrome, Brushed Nickel, Brushed Gold και Black Matt.
More power, less water
The toilet from the Subway 3.0 collection flushes very thoroughly while saving water with the new TwistFlush technology.
Powerful: very thorough cleaning
Effective: saves up to 19,700 litres of water a year*
Hygienic: antibacterial, splash-free and very easy to clean
Our big favourite
You're all set for those everyday bathroom pastimes with the deep washbasins, like washing your hair or hand washing a few garments.
Modern: delicate walls and angular lines
Stylish: oblong overflow
Practical: spacious ledges
Plenty of space for everyday life
The bathroom furniture offers plenty of space for all your bathroom items. And you're all prepared for any additions to your paraphernalia.
•Classy: delicate cabinet walls
• Elegant: slender aluminium handle profiles
• For a lasting shine: anti-fingerprint coating