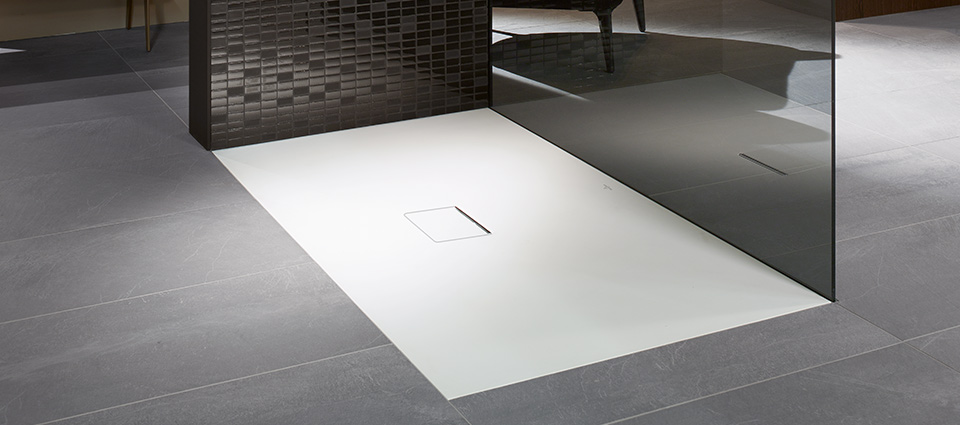 THE RIGHT SHOWER TRAY FOR EVERY NEED
With the flexible, modern shower trays from Villeroy & Boch you can present your customers with a customised solution for every room layout and need. The ultra-slim shower trays are ideal for flush mounting and offer the perfect design for every taste. Thanks to their customisable sizes, simple installation and easy cleaning properties, they are a convincing alternative to tiled showers.
THE RIGHT MATERIAL FOR EVERY REQUIREMENT
Villeroy & Boch offers three high-quality brand materials, ceramic, Quaryl® and acrylic, for shower trays. This allows you to meet a host of requirements and price ranges perfectly in both the private and commercial sector. Here are some of the most important advantages at a glance:
| CERAMIC SHOWER TRAYS | QUARYL® SHOWER TRAYS | ACRYLIC SHOWER TRAYS |
| --- | --- | --- |
| Villeroy & Boch brand ceramics since 1748 | Impressive precision and unusual designs | Increased stability due to innovative Villeroy & Boch technologies |
| High quality and robust | Very pleasant touch and feel | Exceptional value for money |
| Fireproof | Solid-coloured, robust material containing 60% Quartz | Low self-weight |
| Wide range of stylish ViPrint decors | Excellent utilisation properties and maintainability | Cast sanitary acrylic panels made in Central Europe |
THE RIGHT SIZE FOR ANY LAYOUT
Whether a small guest bathroom or a spacious living bathroom, the shower trays from Villeroy & Boch fit into every floor plan. In addition to many standard sizes, the shower trays can also be cut to size to fit the exact dimensions down to the last millimetre. This allows you to customise the Infinity models to fit round columns, corners or projections.
THE RIGHT DESIGN FOR EVERY TASTE.
With their ultra-slim, rimless look, the shower trays from Villeroy & Boch fit perfectly into the modern bathroom architecture. A varied range of colours and decors offers a lot of freedom when it comes to the bathroom design – they can be harmoniously matched to the floor tiles or used as a clever highlight. Turn the Subway Infinity shower into a design highlight in the bathroom with ViPrint decors.
A RELIABLE SOLUTION FOR ANY BATHROOM
You can count on the high quality Villeroy & Boch shower trays. Their robust surfaces look immaculate even after many years. Not least because they are easy to clean, quickly and thoroughly. Because on the pore-free, seamless surfaces the water drains away more easily and dirt cannot settle. Thanks to excellent non-slip properties, all our shower trays are safe to stand in.
High quality, durable and robust
Pore-free, long-lasting surfaces
Very easy to clean thanks to the jointless surface
Non-slip thanks to special surface technology
Sound-absorbing
Experience the diversity of Subway 3.0
SAFE INSTALLATION FOR EVERY SHOWER TRAY
Whether flush installation, installation on tiles or on a base – with shower trays from Villeroy & Boch you are on the safe side. They can be quickly and easily installed and reliably sealed permanently, thanks to their precise workmanship and the appropriate installation accessories.
3 installation variants for maximum flexibility: floor-flush installation, installation on tiles or on a base
Quick and easy installation thanks to the Villeroy & Boch installation kit
Permanently secure sealing thanks to the MEPA Aquaproof sealing kit for corner and flush installation
Watertightness tested and certified by independent institutes