VICLEAN-I 200
The new comfort zone
The bathroom has turned into one of the most important comfort zones. For customers that expect maximum hygiene, ease of use and aesthetics, Villeroy & Boch offers the new ViClean-I 200 shower toilet. It cleans gently and thoroughly with warm water and manages completely without paper thanks to its extendable dryer nozzle. The new shower toilet from the ViClean collection convinces with plenty of comfort and hygiene features, which are intelligently integrated into the elegant design so they are invisible from the outside.
SHOWER FUNCTIONS WITH THREE FLOW TYPES
In addition to choosing between rear wash and lady wash, your customers can choose between three flow types: a continuous water flow, a pulsing massage shower or HarmonicWave, a shower with oscillating and rotating movements.
HarmonicWave cleans particularly pleasantly and thoroughly in lateral wave movements while the shower nozzle also swings back and forth
The water temperature, flow type and flow intensity can be easily customised via app or remote operation
COMFORTDRY DRYER FUNCTION
An integrated warm air dryer ensures optimal freshness and hygiene. A dryer nozzle hidden inside extends for the ComfortDry function: This dries much more effectively and targeted than a simple dryer opening.
The temperature of the dryer heat can be set to five stages from 25-45°C 
The dryer nozzle remains integrated in the panel practically invisible until it is used
TOILET HEATING
The heated toilet seat and cover of the ViClean-l 200 is the icing on the cake in terms of toilet comfort: As soon as the high quality Duroplast seat is used, it warms up evenly in seconds.
The temperature can be individually adjusted
An eco mode that can be activated to automatically lower the seat heating temperature when not in use to save power
SENSOR-CONTROLLED USAGE RECOGNITION
A sensor integrated in the toilet seat and cover ensures that all functions are only started if someone is using the  shower toilet. All shower toilet functions are only activated then.
The usage recognition prevents accidental activation of the shower function
The sensor is invisibly built into the toilet seat and cover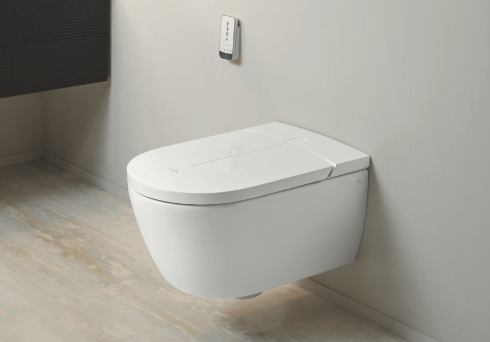 ELEGANT AND INTELLIGENT DESIGN
The award-winning design of the ViClean-l 200 is one of its most  convincing sales arguments. At first glance, it does not look like a shower toilet, since the technology is cleverly and subtly concealed inside.
The shower and dryer nozzle are flush integrated into the panel, allowing for an aesthetic flat lid
Precise craftsmanship and a high quality material combination of ceramic and Duroplast convince with proven Villeroy & Boch quality
Sleek and modern design, which fits seamlessly into any bathroom
HYGIENIC IN EVERY DETAIL
The high quality materials, innovative surface finishes and the sophisticated design ensure maximum hygiene and ease of cleaning.
The shower nozzle is rinsed automatically before and after each use
Water-saving and thorough DirectFlush water flow
The CeramicPlus surface reliably prevents limescale and dirt residue, facilitating cleaning
The rimless toilet design ensures easy and efficient cleaning
INTUITIVE AND CONVENIENT OPERATION
Special toilet comfort also means especially easy handling: The ViClean-I 200 can be operated both via a slim remote control or via the free smartphone app.
All of the settings can be saved and conveniently activated in a personal profile in the app
The app is available for Android and iOS