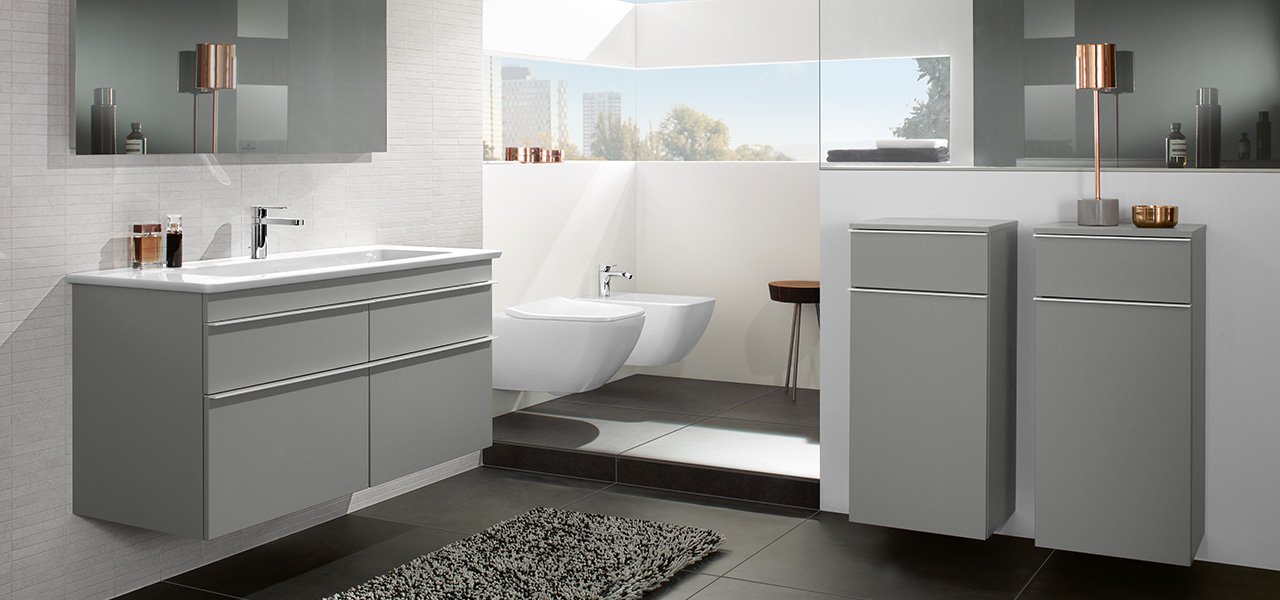 VENTICELLO
Design the perfect line
Design all along the line to meet the highest requirements for modern, individual bathroom design. The new Venticello bathroom collection impressively combines form and function: very thin edges for a trendy, delicate design creating a sophisticated effect and featuring smart details, and part of a large product family. For a unique sense of space. Always a fitting solution, always distinctly individual.
THIN LINES FOR A STRONG DESIGN
Delicate and modern: Distinct design with a low rim height of only 18 mm.
Intelligent design: 120 mm basin depth, broad shelf space, convincing hygienic level.
Well positioned: Ten varied, elegant washbasins with widths ranging from 50 to 130 cm and various tap fittings and overflow options – vanity washbasin of 100 and 120 cm also suitable for two 1-hole tap fittings.
MULTIPLE COMBINATIONS POSSIBLE
Vanity unit with 2 drawers (division of 1/3 to 2/3) for a height of 59 cm or 1 deep drawer for a height of 42 cm, for vanity units wider than 120 cm twice the number of drawers, with elegant handles and popular colours rounding everything off. Supplement with two different tall cabinets and/or one side cabinet – tailored to meet your customer's every desire.
Particularly elegant thanks to the new glass fronts in Glossy Grey and Glossy White in combination with the new copper-look handle.
Excellent highlights: Two asymmetrical vanity washbasins with generous shelf space, a surface mounted washbasin with semi-recessed look, 2 perfect flat toilet seats for the rim-free DirectFlush-WCs
Excellent quality: Washbasins made from high-quality fine fire clay with full glazing for easy wall mounting. Can also be used without vanity unit.
COMPLETE BATH COLLECTION
Wall-mounted or floor-standing bidets and toilets including DirectFlush technology and AquaReduct flushing (3l/4.5l) in modern angular design give everything the perfect finishing touch.
We recommend complementing the Venticello with lighted mirrors from the "More to See 14" collection, mirror cabinet from "My View 14" and the quaryl bathtub "Squaro Edge 12".
WELL DESIGNED, OPTIONAL ACCESSORIES
Towel holder on the washbasin, for installation at the front or to the side, plus various outlets with a ceramic cover, matching accessories and lighting for the drawers.