Presenting a classic in Pure Black.
True style is timeless. As demonstrated by Hommage, which has been the epitome of high-class elegance in the bathroom for many years now. We are marking our 275th anniversary with a new interpretation of this stylish classic – in distinctive Pure Black. A matt colour which transforms the bathroom into a personalised retreat. Fashions come and go. Hommage is here to stay.
The superlative bathroom
Inspired by the early years of the 20th century, Hommage reflects our zeitgeist more than ever: with step reliefs on all ceramics as well as exclusive accents, Hommage fascinates
in a high quality. Ready for its next grand entrance?
SUPERIOR BATHROOM CERAMICS
The luxurious stepped reliefs on the
washbasins and toilets lend Hommage
Pure Black both clarity and opulence
at the same time.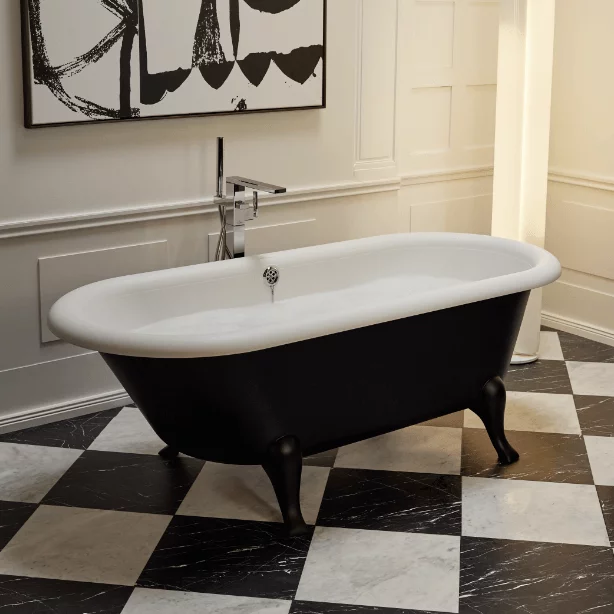 PURE WELLNESS
 
The free-standing bath comes in
high-quality Quaryl®, which quickly takes
on the warmth of the water.
More than just a bathroom
Baths in Quaryl®
This unique material consisting of 60% natural quartz stone and high-quality sanitary acrylic enables extremely delicate and striking designs and is exceptionally hard-wearing.
Stores heat for prolonged bathing pleasure
Extremely hygienic non-porous surface, which is also easy to clean
Enables unusual designs featuring thin walls
Particularly shock-, impact- and scratch-proof
Washbasins and toilet featuring the CeramicPlus finish
On the dirt-repellent surface finish water immediately forms into droplets which flow off, taking the dissolved dirt and limescale particles with them.
Scratch-proof and durable surfaces
Hygienic and clean
Resistant to household acids and alkalis
Extremely easy to care for and clean