FINION
Achieve your aspirations
With its delicate shapes, fine materials and smart features, Villeroy & Boch's new Finion complete bathroom collection is making a stylish statement in the premium sector. Impress your customers with a wide selection of customisation options and present luxurious bathrooms in which every detail meets the most demanding modern lifestyle requirements.
An international jury of experts has awarded Finion the iF DESIGN AWARD 2017 for its excellent overall concept of puristic lines and smart features.
WASHBASIN
A wide variety of design options with surface-mounted washbasins, vanity washbasins and wall-mounted washbasins
Extremely elegant TitanCeram washbasins with very thin rims and walls
Precise, thin-walled and exceptionally strong ceramic
Ultra-flat, flush-fitting ceramic valve, optional with ViFlow
All washbasins can be combined with matching furniture units
TOILET AND BIDET
Linear and puristic design of the ceramic and toilet seat
Perfect hygiene and easy cleaning thanks to DirectFlush and CeramicPlus
Simple assembly using the SupraFix concealed attachment system.
A slim 4 cm toilet seat with SoftClosing feature and a minimal gap between the toilet and the seat.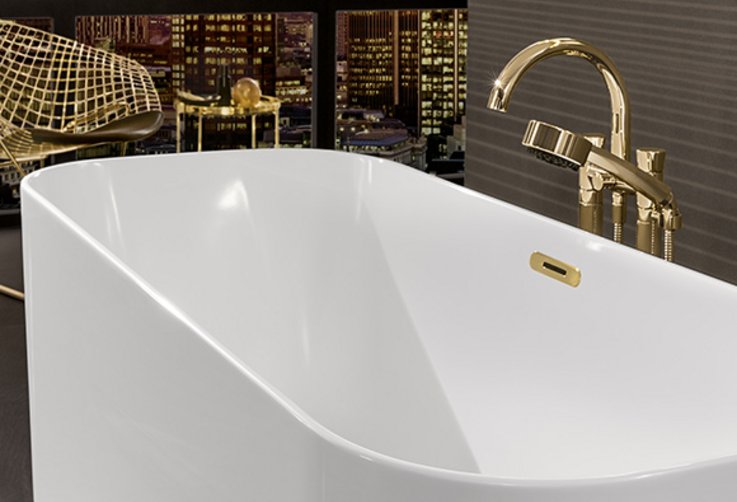 BATH
Free-standing bath made from the finest Quaryl®
Filigree premium design with precise edges and thin side walls
Individual highlights thanks to an optional decorative strip as well as a push-to-open valve and water inlet in stylish metallic shades.
BATHROOM FURNITURE
Vanity units, tall cabinets and side cabinets in the puristic Finion design language
Modular vanity units with precisely faceted shelves
High-quality surfaces in 10 gloss paint colours and 1 wood veneer as well as 2 stylish glass shelves for surface-mounted washbasins
Shelves in a choice of furniture colours create individual highlights
Indirectly lit shelves as well as units with an Emotion feature
Push-to-open system for furniture panels instead of handles
LIGHTING
Integrated lighting concept creates atmospheric lighting effects
Emotion feature for furniture, bath and mirror
Indirect lighting of shelves as well as rear wall lighting for the vanity units and illuminated mirror
Elegant mirror with illuminated LED border
User-friendly operation and continuous dimming of all lighting by remote control
SMART TECHNICAL FEATURES
On request, a wireless smartphone charging station can be integrated in the side cabinet and shelves.
Mirror optionally available with high-quality Bluetooth® Sound+ sound system