ARCHITECTURA
fits any Plan
Architectura is the versatile system solution for the commercial sector. Developed with a view to the needs of architects and planners, Architectura unites minimalist design with practical innovations all the while setting standards in terms of hygiene, maintenance and efficiency. Whether round, oval or rectangular, the versatile washbasins are perfect for personalised bathroom design. The new wall-mounted DirectFlush toilet featuring a contemporary design and a concealed attachment creates a visual highlight.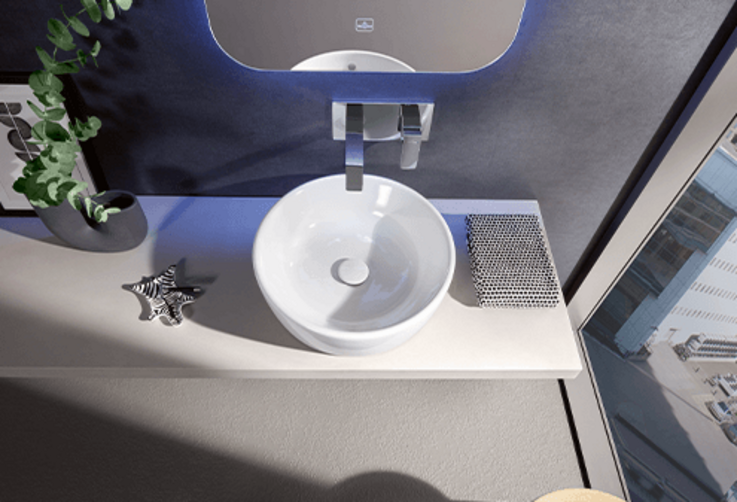 CERAMICPLUS
The innovative ceramic coating.
VERSATILE AND A PERFECT FIT – THE ARCHITECTURA WASHBASINS
A system solution that covers all design requirements, developed for architects and planners
The design is based on timeless, geometric shapes
Versatile design options through different installation types and sizes
In vogue: the latest facelift makes surface-mounted, built-in and undercounter washbasins more delicate. Moreover, the built-in version now has a tap hole bench for installing standard taps. And the round washbasins have become larger, meeting today's customer needs
The wall-mounted models can also be installed in a countertop
Easy to install and cost-efficient due to the universal attachment
All models available with Ceramic Plus
ARCHITECTURA TAPS: CLARITY RIGHT DOWN THE LINE
Raised single-lever mixer for more combination options
Clear contours and striking details
Cover ring for secure installation on uneven surfaces
Wide range of versions available
In timeless chrome
Top Together: taps coordinate ideally with all Architectura washbasins

AIRPLUS
Added air for pleasant water jet strength, even at reduced flow rates to save water

AQUASMART
Environment-friendly maximum water flow rate of 5 l/min – without compromising performance
COMFORTPLUS
User-friendly tap heights for various surface-mounted washbasins
EASYCLEAN
Simple cleaning and removal of limescale with a sponge or finger
SMARTPRESSURE
Constant water pressure and flow, even in case of fluctuating pressure
SYSTEMATIC AND PRACTICAL – THE ARCHITECTURA WCS
Rimless DirectFlush technology for a new type of hygiene
Precise solutions for rooms of all sizes – from standard solutions to compact toilets for guest bathrooms
Selected models available with AntiBac
The new wall-mounted toilet (round) with a concealed fixation and contemporary appeal
DIRECTFLUSH
The new generation of rimless WCs offers particularly quick and thorough cleaning. A precise, splash-free water flow ensures the entire interior of the bowl is rinsed thoroughly to ensure cleanliness.
ANTIBAC
The innovative surface technology has a permanent antibacterial effect and has been proven to reduce the growth of bacteria by more than 99.9%.
CERAMICPLUS
The innovative ceramic coating.
ARCHITECTURA TOILET WITH CONCEALED ATTACHMENT: QUICK & EASY INSTALLATION