Steel Shower – Design the perfect line
Steel Shower features a modern, straight-lined design. The solid stainless steel beautifully accentuates the puristic shape of the tap. The tap is perfect for washing up large pots thanks to its retractable hand spray.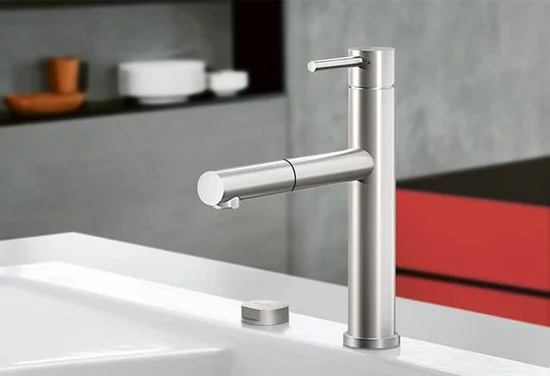 Kitchen taps and fittings: Solutions for the modern kitchen
An outstanding kitchen sink deserves an equally outstanding tap. Villeroy & Boch's kitchen taps and fittings coordinate harmoniously with the sink designs and are available in different versions for every layout scenario – ensuring a perfect solution even for smaller spaces. Many kitchen taps include a retractable hand spray allowing easy cleaning of large items of crockery.
PRODUCT FEATURE
Retractable spray head
The retractable spray head provides you with maximum flexibility for cleaning your pots and pans. Thanks to the manoeuvrability of the spray head, you can easily fill any container of any size with water.
PRODUCT FEATURE
ComfortPlus – Taps with a comfortable height
The tap has a convenient height with lots of freedom of movement – ideal for easy cleaning of items such as baking trays and to fill large containers with water.
PRODUCT FEATURE
360° swivel range for large working radius
Villeroy & Boch places great importance on flexibility in the kitchen. This tap therefore has a swivel range of 360° for a large working radius.
PRODUCT FEATURE
Energy-saving cold start function
With this technology, the neutral lever setting is at cold water. This avoids any unnecessary heating of water, for example when washing hands, and saves energy. Warm water is used only when it is really needed. The fact that the lever is only rotated towards the front also allows easy installation directly at the wall.
PRODUCT FEATURE
Resistant to fingerprints
The brushed finishes in the colours of Stainless Steel, Gold, Bronze and Anthracite are resistant to fingerprints and grease spots and are therefore very easy to care for.
PRODUCT FEATURE
Easy installation
With high-quality and standardised components, the Villeroy & Boch fixing system allows quick and easy installation in every home.
MATERIAL
High-quality stainless steel
The Villeroy & Boch tap body consists of 100% acid-resistant, taste-neutral and rustless, lead-free stainless steel. This ensures maximum hygiene and pure drinking water. The durable stainless steel therefore provides a high-quality product that you can enjoy for many years to come.